Alcoholic Beverages
Description
La vera genziana, prodotta da radici raccolte sul Terminillo. Prodotto artigianale
Ingredients
Radici di genziana, alcool
Description
Ingredients and Certificates
Description
Description
Description
Show more
Beer
Description
BIRRA CHIARA PRODOTTA DALL' AZIENDA AGRICOLA LAVINO ZONA CON PURO MALTO D'ORZO COLTIVATO E MALTATO IN AZIENDA.
Ingredients
acqua, LIEVITO,MALTO D'ORZO e luppolo
Certificates
CAMPAGNA AMICA - Campagna Amica Foundation

Description
Ingredients and Certificates
Description
Unfiltered and unpasteurized raw blonde beer, straw yellow in color with compact and persistent foam. In balance the herbaceous notes of hops with the biscuits of malts. In the mouth it is dry and thirst-quenching, the closure is bitter.
Ingredients
Water, BARLEY MALT, Hops, Yeast
Description
Ingredients and Certificates
Description
Birra di colore biondo brillante, con schiuma finissima e persistente, aspetto limpido luminoso uniforme. Presenta una buona intensità olfattiva, con tenue aroma piacevolmente erbaceo e floreale. Di corpo leggero e di media frizzantezza, gusto equilibrato, asciutto, con nota amara intensa. La persistenza retro olfattiva è molto lunga, con nota prevalente di luppolo.
Ingredients
Acqua, orzo maltato, luppoli, lievito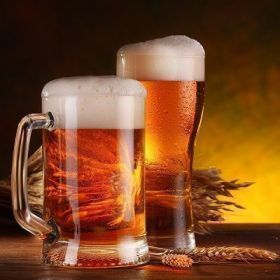 Description
Ingredients and Certificates
Description
In perfetto stile Blonde Ale, EVERGREEN è una birra chiara fresca e dissetante, prodotta con una buona percentuale di frumento, il quale le dona una tipica dolcezza maltata e un cappello bianco di schiuma persistente. La sua dolcezza è ben bilanciata dall'utilizzo di luppoli nobili che le donano un finale secco che pulisce la bocca richiamando un nuovo sorso. L'odore di malto è il primo a giungere al naso assieme a sentori di crosta di pane e un finale erbaceo donato dal luppolo. Abbinamenti: perfetta come aperitivo, con piatti a base di pesce, carni bianche e formaggi poco stagionati.
Ingredients
Acqua, Malto d'orzo, Malto di frumento, Fiocchi di frumento, Luppolo, Lievito
Description
Ingredients and Certificates
Show more